What does the grandmother of the bride do?
That's a good question and since I have been the grandmother of the bride or groom six times now, you would think I would have this answer down for you. But here's the deal. It's a job with a changing job description. Like most "grandmother" jobs, this one is optional. The exception being if you raised your granddaughter, as a good friend of the mine did. In that case, you are the one putting on the wedding. Other than that, the grandmother has no duty but to walk down the aisle before the parents do. And there's an exception even to that. In my grandson's wedding, the bride determined that the grandparents would already be seated, no need to walk down the aisle. 
Whether you are walking down the aisle or not, it's generally accepted that the grandparents will be at the rehearsal dinner. It can last a while, so get your beauty rest before and be prepared to shed a few tears. It's also acceptable for a grandparent to say a few words, but it's not obligatory. I generally do not speak up at the rehearsal. It's a little odd to my grandkids because I am quite outspoken about them most of the time, but there are only so many words that can be said about two people and those words are usually said by the parents or best friends. Plus, I'm not a huge fan of crying in public, which I have no doubt I would do. I generally tell the grandchild ahead of time that I don't usually speak up, but that I adore them and am so happy for this marriage. The one exception was one of the grandsons where I felt like someone needed to represent the older generation, so I spoke up. Other than that, no words from me at rehearsal dinner. 
Since the entire job is a volunteer position, know that you can volunteer anywhere you see fit, according to modern day rules. For my grandson's wedding, I threw the couple's shower at my house. The wedding was going to be out of town, so I wanted a time and place where all our family could get together and celebrate the bride and groom. In the past, family members did not host the showers for the couple, but that rule has been pushed to the wayside. It's now fine for family to host any shower. For two of my granddaughter's, I hosted the bridal luncheon on the day before the wedding. This is a great way to say "I love you" to anyone who is getting married. Hosting the bridal luncheon can be anything from a quiet lunch in your home to an elaborate lunch at a local restaurant. Just know your budget before going into it. In my case, I asked all grandparents and some of the aunts to help host. They were all happy to be part of the celebration. 
There are not many other jobs for the grandmother prior to the wedding. Some of my brides have asked me to accompany them to pick out their wedding dress, others did not. I was thrilled to be asked and not offended if I was not. Every bride has the right to this being a more public affair or a quiet one with just her mom present. Be very mindful to not get your feelings hurt over anything. This is a happy time, and the attention should all be on the bride and groom. Our family rule is NO WEDDING DRAMA ALLOWED.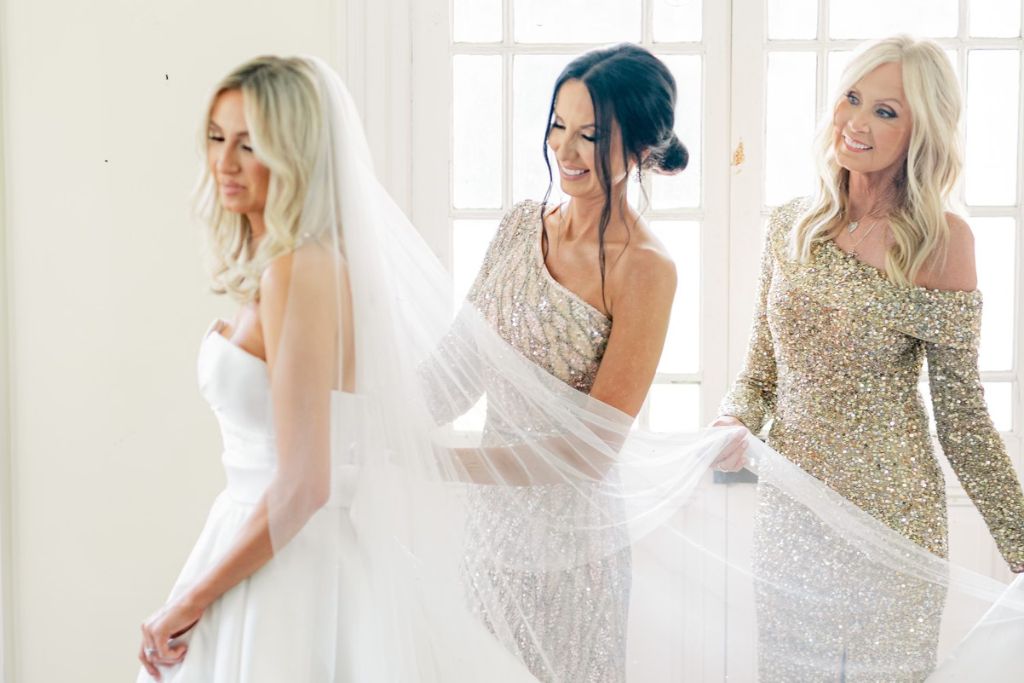 As for the day of the wedding, again, some of my brides asked me to be at the wedding venue early for pictures, others did not. For most of my weddings, especially the one involving granddaughters, I was there early just to be a fly on the wall and watch it all. If I saw that I could help in an area, I would step. If not, I would stand back and watch the fun, ready to lend a hand if necessary. Of course, anything to help your son or daughter, who are the parents of bride, I'm sure will be appreciated. For one of the weddings, my help was needed tying all the bows. It was a job I was happy to do. Other weddings, my only job was to sit in the assigned seat and enjoy the show. Either way, I'm delighted to be a part. 
The toughest job is probably knowing what to wear. I always ask the bride if they have a color that would like me to wear and if they would like it to be long or short. Brides, today, have all kinds of ideas about having the "picture perfect" wedding and often want to follow a color scheme. I am more than happy to oblige by their ideas. Some of my brides haven't given me a color scheme, but I always send them a picture of the dress I am looking at before I purchase it. 
Weddings are so personal. As I said, every bride has "her style" and her ideas for how her wedding day should go. Our job is to cheer the bride and groom on and stand beside them, representing the link in the chain that makes their new family be a family. We provide the face that give longevity and legacy to your family. We may not have many "jobs" in the wedding, but we fill some very important shoes in getting the bride and groom where they are on that wedding day. There will be one bride and one groom, but many times there are multiple parents and, always, there are multiple grandparents.  It's essential that all the adults in the room be adults and lead with grace and integrity throughout the entire wedding celebration. This, more than good food and a great band, is what will make the celebration more fun for the bride and groom. 
So, sit back and enjoy the ride. It's a fun one. 
Hugs, Chrys