My Life in "Grandmother of the Bride or Groom" Dresses
I recently was asked to show all the dresses I have worn to the six grandkid-weddings our family has had. Yes, I'm getting quite a collection. As one would expect, each of "our" weddings was different as each of the brides are and my grandmother-of-the bride dresses were also different and so fun to wear. I thought I would share each of them with you. I hope you enjoy the journey.  
John Luke was our first grandson to get married. He and Mary Kate were so young, and the wedding reflected that youth. It was in the front yard of one of my daughter's houses right in front of a small pond in the month of June. Mary Kate's dress was so sweet and had a princess feel to it. When she walked over the ridge to where her groom was, it was magical. She and John Luke were beaming. The guests set on couches and chairs and beautiful rugs. My dress was light and airy to match the occasion and the potential heat wave that did come. It was from Anthropologie.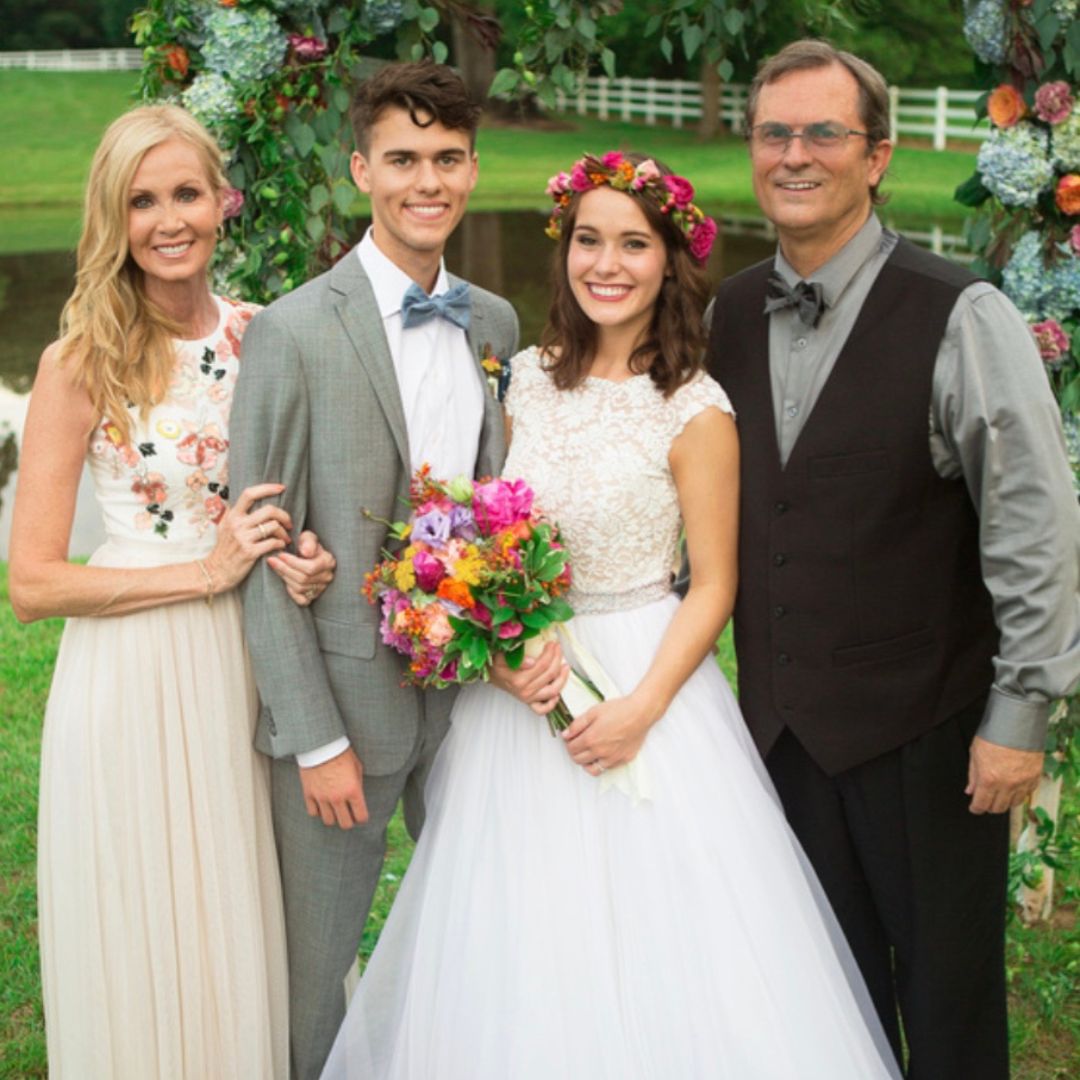 Next, our sweet Rebecca got married in Tulum, Mexico. It was our only, so far, destination wedding. Rebecca and John Reed were a little older and already on their own, so this type of wedding made sense for them. Rebecca is also a designer, so she worked closely with Sherri Hill to create the prefect dress for her. My choice for a dress for that occasion was something that reflected the "outdoors" in the lush Mexican environment. It was a dress that Korie already owned, but we felt like it was the perfect choice, so it was a win-win. The wedding venue couldn't have been more gorgeous. The natural environment with it's greenery and flowers made for the perfect day!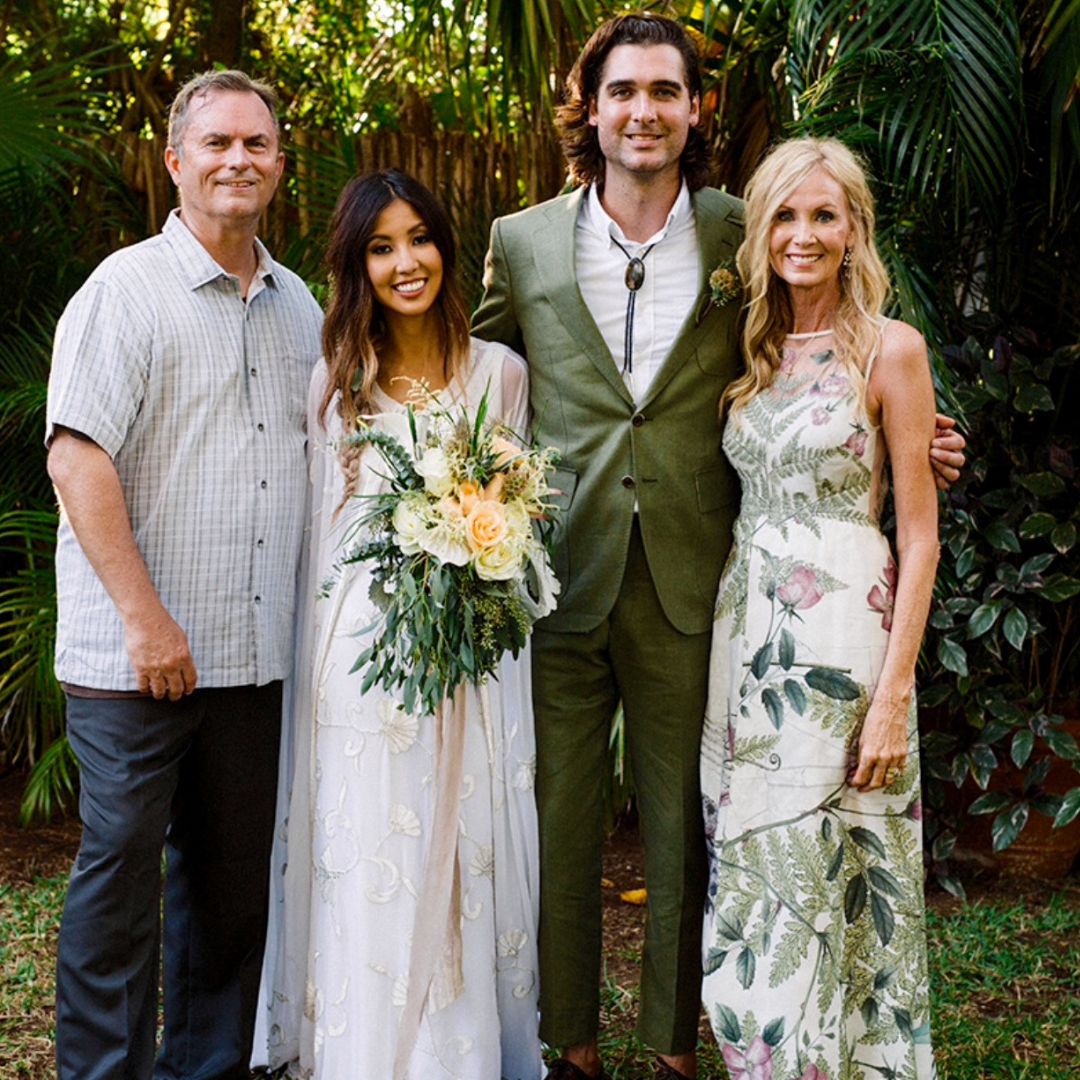 Sadie was next with the most elegant wedding. Thousands of lights covered the fence around Korie's tennis court turning it into a twinkling-winter-wonderland. Her wedding was in November. In Louisiana, November could be 40 degrees or 80 degrees. It's hard to know, but we had to dress for cold weather, just in case. I chose an elegant, long sleeve dress that complimented my daughter, Korie. The night of the rehearsal dinner was so cold that we bought 20 white blankets for the wedding the following night, but the weather warmed up to a perfect 73 degrees! Thank you, God! That dress was a last-minute order from Dillard's. It might still be on the site.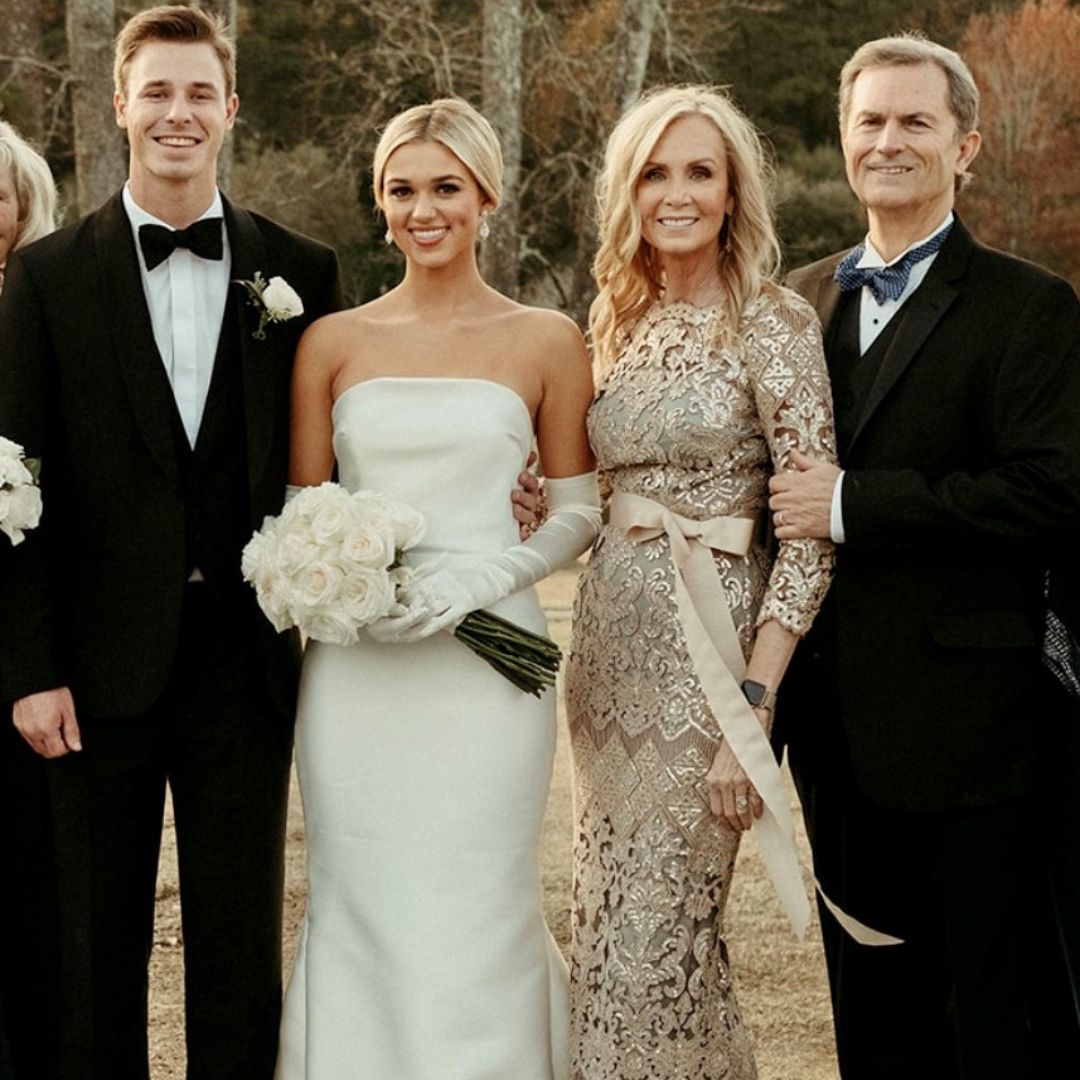 Sadie was followed by little sister, Bella. Bella was another young bride. She couldn't decide on a dress, so she worn one to the wedding and one to the reception. Problem solved! It was another June wedding, so everything pointed to a hot day which it was, but it wasn't terrible. I was determined to cover my arms, thinking they weren't in shape for bearing at that point, so I scoured the internet for a sleeve that would still be cool enough for June. I found this blue dress with a butterfly peek-a-boo shoulder that solved the problem. My arms were covered, but I was cool. I can't remember the brand, but the website is Lulus and very inexpensive. Bella was married in Korie and Willie's backyard, which backs up to my backyard. Rain threatened that day, so Korie quickly ordered a tent, but it cleared up just in time for the wedding. Still, the tent was perfect!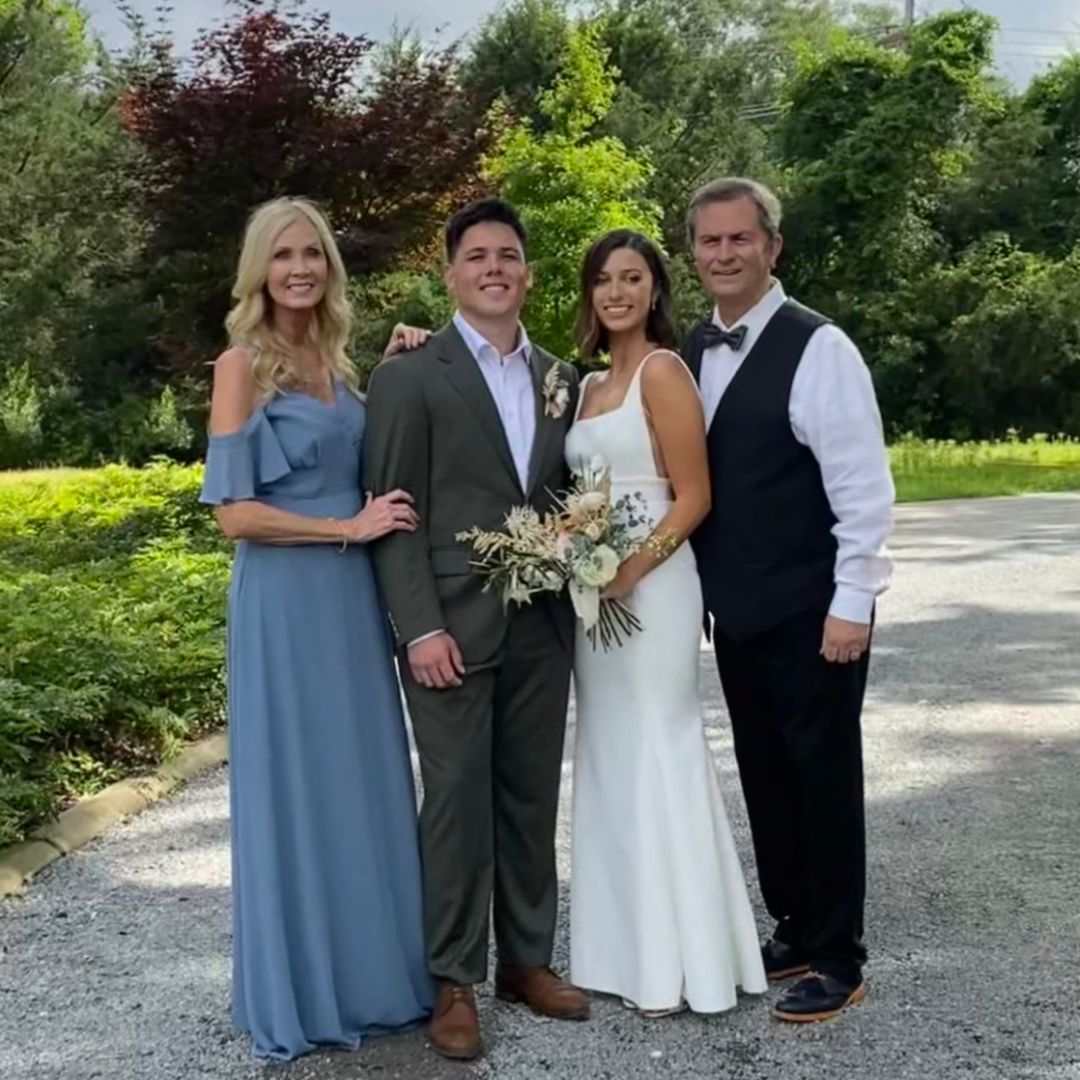 After Bella, and I mean right after, in October, my grandson, Asa married sweet Bailey. His adorable bride is full of fun and fashion and her wedding reflected that. She requested all guest, except the parents of the bride and the bridesmaids, to wear white. I had never been to a wedding with this request, but it was stunning. The good news was since the wedding was in October, everything white was on sale. I got a gorgeous white dress from BHLDEN, which is pronounced Beholden and is Anthropologie's wedding line. It was a $600.00 dress and I got it for $199.00. Sweet deal! The bride chose a mansion in Dallas for her wedding venue, and it was stunning!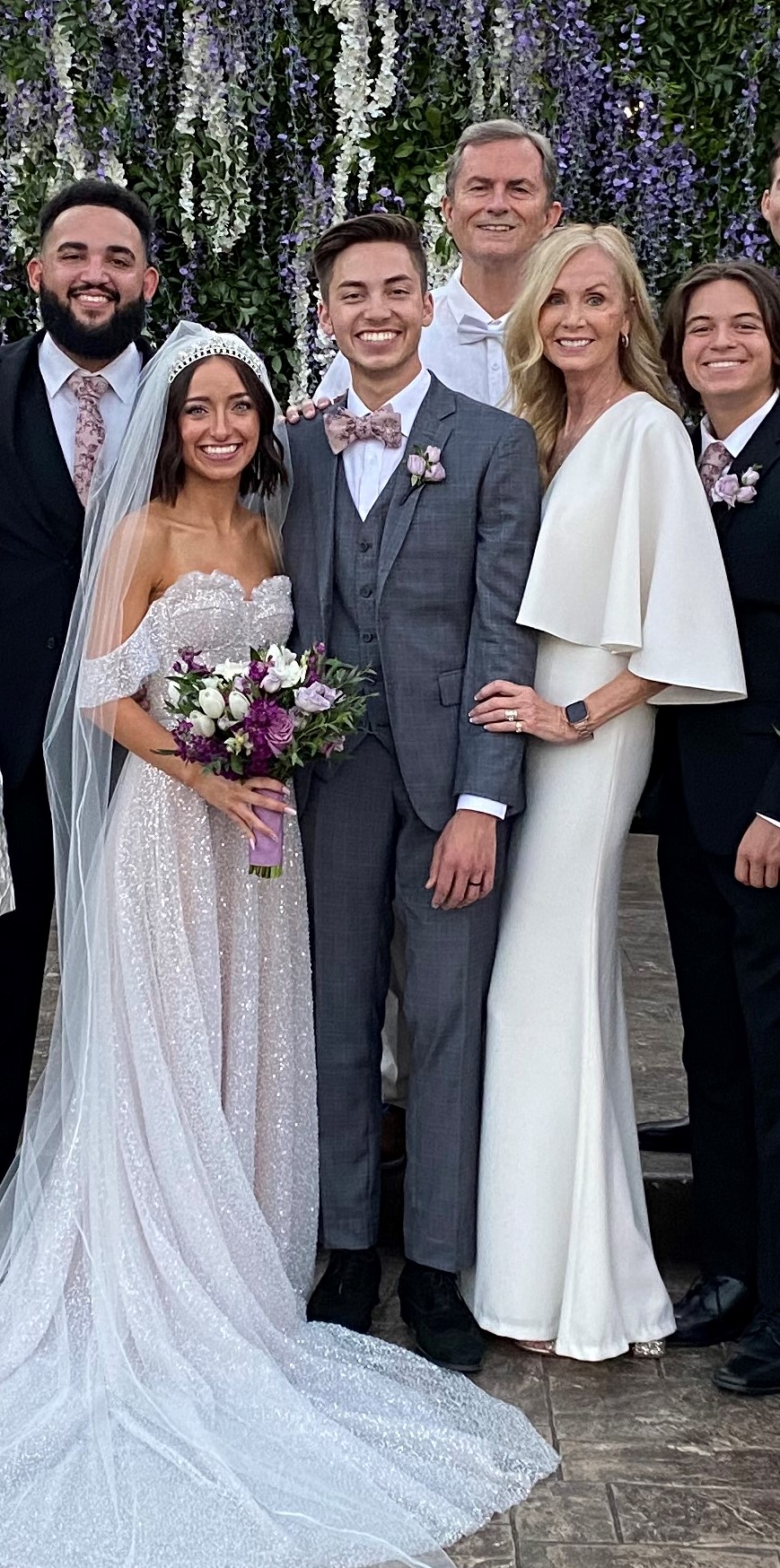 Our most recent wedding, on September 24, was my glamourous granddaughter, Macy. If ever there was a time to go all glam, this was the occasion. Macy was a stunning bride, as they all have been, so her mom and I both choose Mac Duggal from Saks Fifth Ave. The funny behind-the-scenes was my daughter, Ashley, and I kept going back and forth on who would wear which dress. Both were gorgeous and I didn't care. I wanted Ashley to be happy. In the end, we think we made the right choice. Her wedding venue was the same location as John Luke and Mary Kate's, but she chose a different place in the yard to marry. The reception was in a huge tent about fifty yards from the wedding site. Perfect!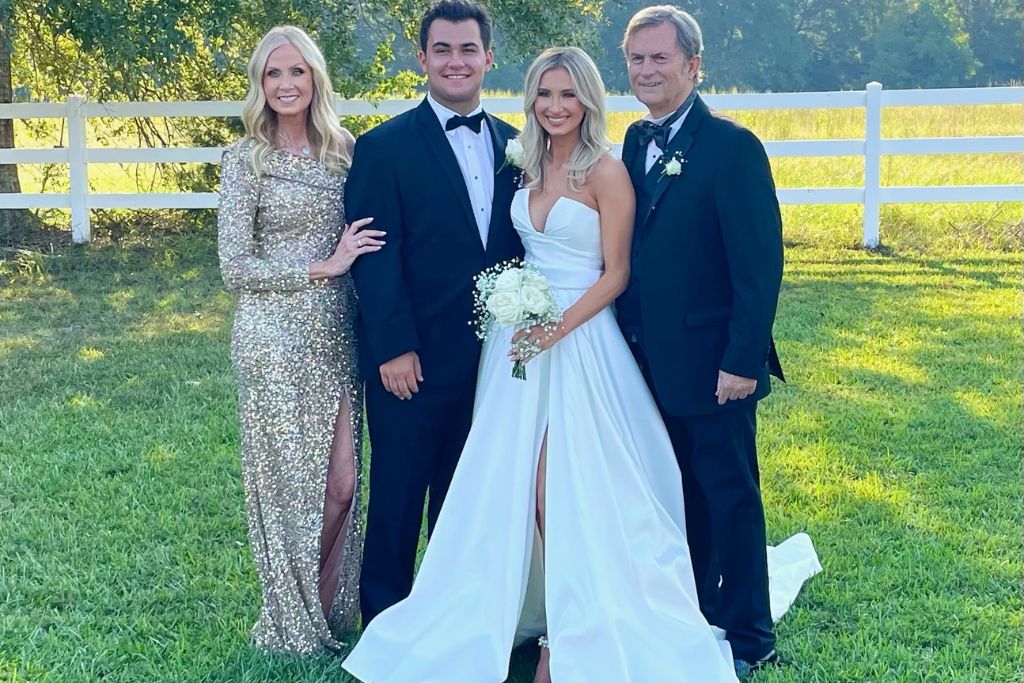 Some of you might be on your sixth grandchild wedding too. If so, I hope you loved every minute of it. Some of you are still waiting for the day. When the day comes, take lots of pics and have fun!
Hugs, Chrys